THIS WILL MAKE YOU PUT ZERMATT SWITZERLAND TO YOUR BUCKETLIST
A vacation to Zermatt Switzerland was long planned, awaited and looked forward to with great excitement ever since we moved to Germany. There are few places on earth which are nature's paradise, where barren land and snowy inhospitable mountains incite the traveler to chase rainbows. Zermatt lies at the foot of the Matterhorn – the main reason for our trip to the holiday resort Swiss town. Well those who do not have any idea about Matterhorn – buy a Toblerone and give it a good look. You'll know!
Away from the bustling, high-tech city life, Zermatt has no trappings of city attractions. And yet the quiet, secret whispering of the mountains would not let me rest till I convinced my adventurous husband to plan for this trip. And so a few months' planning culminated in this once-in-a-lifetime experience.
BEST TIME TO VISIT ZERMATT (MATTERHORN)
Some research later we decided to travel in the month of August. Though the tourist season continues through June-September; September onwards witnesses dip in temperatures, hence August seemed like the perfect time. Again after much brainstorming and various disagreements later it was decided that perhaps August would be an ideal time to see the Matterhorn Peak in Zermatt.
MATTERHORN-GOTTHARD-BAHN RIDE FROM FURI TO ZERMATT
An early morning train (Matterhorn-Gotthard-Bahn) from Furi Station (that's where we took accommodation) carried us comfortably through the various scenic landscapes and we reached Zermatt an hour later.
Welcome to the car-free SWISS village! Yes, so those doing a road trip have an option to either leave the car at their accommodation (like we did) and travel by train. However, others traveling via a car can simply reserve a parking space at the Täsch station and take a train from there till Matterhorn Bahnhofplatz which takes about 20 minutes. Full day parking charges are 15.50 CHF.
Since it was our first time in Zermatt we couldn't have been happier. The town offers a wide range of hotels, motels and lodges to suit all pockets. So after our arrival and a hearty breakfast we did what best suited the occasion – started exploring.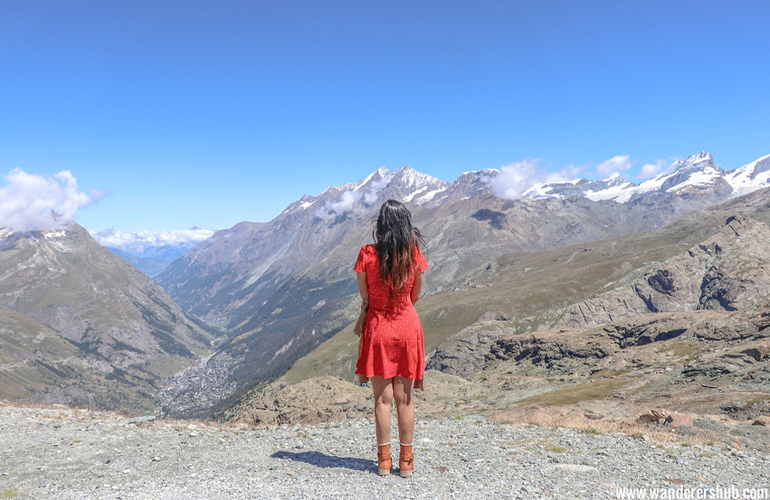 THINGS TO DO IN ZERMATT SWITZERLAND
APPRECIATE BEAUTY OF THE SCENIC TOWN
We flitted around in the picturesque expanses of snow tipped peaks and confluences for the next few hours. An hour or so was spent admiring the many moods of the phenomenal Matterhorn Mountain, while the next whole day was spent going all the way up to Matterhorn, Gornergrat and Riffelsee.
IT'S TIME FOR TREKKING
Getting around in the valleys can be a little tricky for the novice. While we chose to rather use the mountain lifts and gondolas for Zermatt peaks, a number of tourists like the valleys solely for this purpose. We sure are going to come back to trek to Matterhorn the second time. Gotta sense that feeling of conquering Matterhorn for real!
GET ONBOARD THE MATTERHORN GLACIER PARADISE
Hop on the Matterhorn Glacier cableway and get ready for the journey you wouldn't forgot in a lifetime – one of the must do things to do in Zermatt Switzerland. You'll get whisked away to the magical world of Matterhorn paradise. The high-alpine world seems almost unrealistic till the time someone pinches you and makes you realise it's for real. No wonder the  lonely Matterhorn mountain (at 4,478 m) is the most photographed mountain in the world.
Don't believe us? Here check out the various moods of Matterhorn yourself.
RIDE THE GORNERGRAT BAHN
The word is breathtaking! Europe's first fully highest altitude open-air electric cogwheel railway is something you must ride when in Zermatt. Put this straight on your list of things to do in Zermatt as you won't regret this journey.
You are promised excellent views of the Matterhorn mountain from the Gornergrat summit (3089 m). Some of our best pictures of Matterhorn during the nightfall have been taken from the Gornergrat.
CATCH REFLECTION OF MATTERHORN IN THE RIFFELSEE
This was an interesting place to visit, and by the time we reached there wasn't even a single person in sight. Simply enjoy the impressive mountain views in solitude, sit there for hours and wait for the perfect time to catch reflection of Matterhorn in the Riffelsee.
END YOUR DAY BY A VISIT TO THE MATTERHORN MUSEUM
History lesson about the Matterhorn museum? We are all game for it. The museum was really impressive and gave good glimpses of the life in Zermatt in the times bygone! You also get to see how people used to live in the 19th century. Also, see the infamous rope that stands as the testimony of loss of lives of 4 climbers out of 7 during the first ascent of Matterhorn.
INDULGE IN EXCITING ADVENTURE TOURS
Helicopter sightseeing and paragliding with Fly Zermatt are extremely popular in Zermatt and most recommended for adventure freaks. I am sure marvelling at the gorgeous views of Matterhorn from the sky would be an altogether different high! So, think about it.
BYES!
So much to our dismal, we were forced to bid adieu to the version of paradise that we had grown to love. Though our stay at Zermatt was short lived, for an unavoidable lack of time, we enjoyed every precious moment we breathed in the pristine valleys. We had a peaceful day without our phones buzzing and disrupting our time there.
And we'd be back for sure!
TIPS FOR YOUR VISIT TO ZERMATT
If a trip to Zermatt Switzerland is on your mind, think no further. This is one place you cannot regret visiting. Just remember to carry your essentials, plus some medicines if you're prone to motion sickness, and some extra woolens.
Also, the ATMs are aplenty and credit cards are widely acceptable so you don't need to worry about cash. In fact there is one ATM right next to the Matterhorn Museum.
The locals are hospitable and wonderful to interact with and even a few days stay here would leave you wanting more.
For paragliding, make bookings 4-5 days well in advance. Do not bother about the weather though!
If you are at the Riffelsee for the views but cannot see the reflection of Matterhorn yet, just wait for a few minutes or some hours. Patience is the key and we assure the wait would be worth it.
If you wish to hike around a bit, make sure you wear sturdy shoes!
Cover yourself in layers. By the time you get to the top, it'll be really cold. So you can wear and take off warmer clothes as you may!
Car parking is available at Täsch station from where you can take a train to reach Zermatt in 20 minutes.
With a Swiss Travel Pass, you get a 50% discount on your Peak to Peak Pass (which I think is AWESOME). Also, you do not have to pay for an entry into the Matterhorn Museum.
We would like to thank Zermatt Tourism Board for making this trip possible. All opinions are our own.