Staying at The Leela Palace Udaipur: Review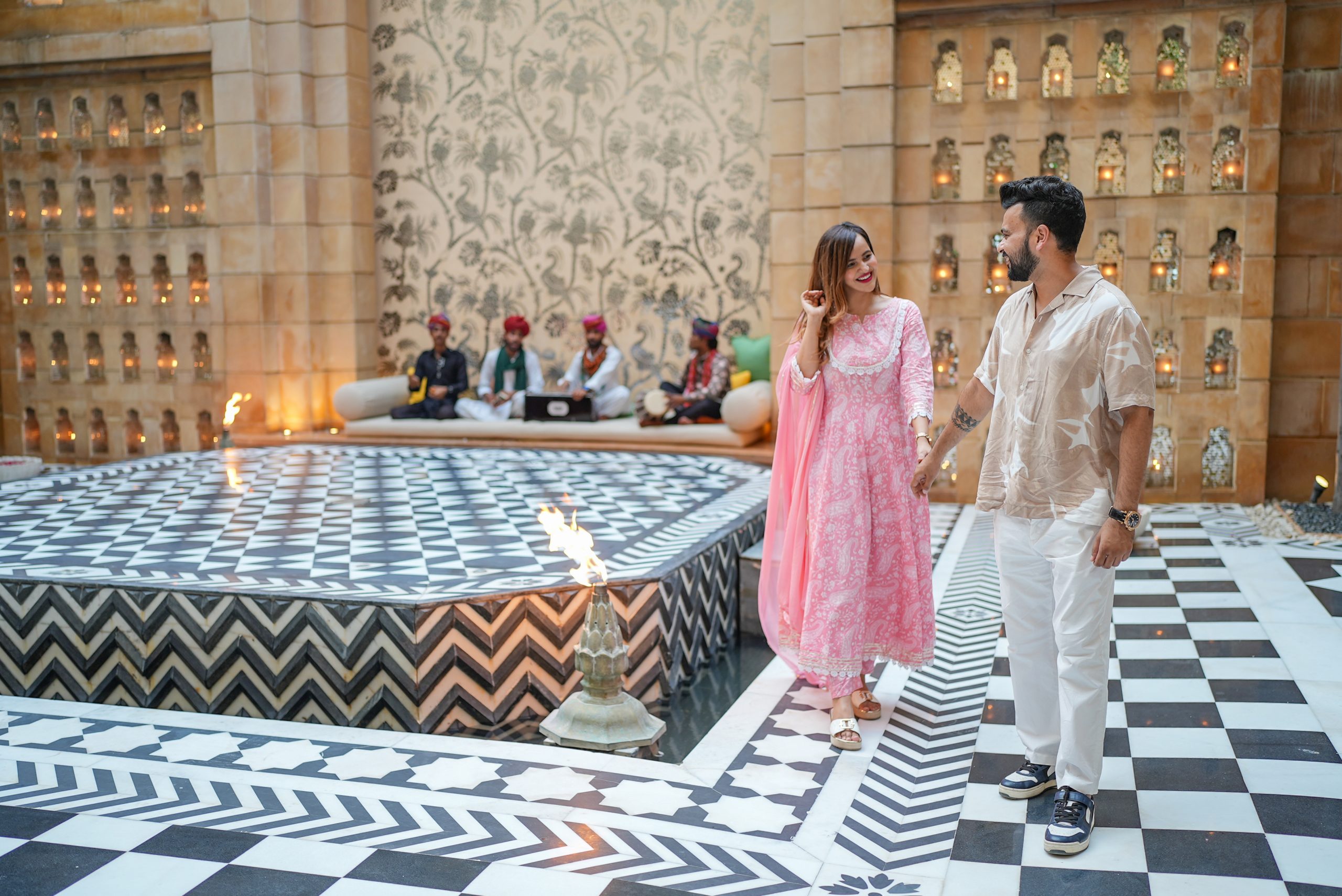 Continuing our Udaipur adventure, we stepped into this world that was a blend of royal and contemporary at the same time, for a stay, and the experience was just surreal. That's correct, we're talking about the Leela Palace Udaipur – a luxury haven situated on the banks of Lake Pichola. The hotel is known for hosting big fat Indian weddings and star-studded functions. Yet it is also a charming nest for anyone who's looking to dive into extreme luxury & the glimpse of Rajasthan glory.
Arrival and Welcome
As we entered the Leela Udaipur, we were curious to know what the experience would be like. The moment we put our foot onto the premises, we were welcomed with glitz and glamour. Oh, what a welcome.
Flower shower as we walked down from the jetty from our private boat towards the hotel under a big, red umbrella and listening to the music of folk singers welcoming us in the most surreal manner & finally opening of a champagne to finally making our way into the reception. Rajasthani hospitality at it's best.
The staff greeted us with excitement and the entire check-in process was smooth as butter. We were escorted to our lakeview hotel suite and the luggage was swiftly moved in. The entire hotel boasted of royal interiors and a Rajasthani theme.
Room and Stay
We were upgraded to the Kamal Mahal suite, which was a sweet surprise as we got to experience luxury at it's finest. All thanks to our GHA Discovery membership. From the moment we entered the suite, we couldn't help but notice the detailing of designs and decor which was phenomenal. The room boasted all modern amenities and was quite spacious.
While the sofa and table were placed near the window, our evening and morning tea felt blissful as we could view Lake Pichola from the window. While this all feels like a living a fairytale, the balcony of our suite really was the cherry on top. The service is quick and we'd rate it a definite 10/10.
Royalty Dining
Oh! and while we recommend you top things to do in Udaipur, the No.1 highlight would be a romantic dinner at Sheesh Mahal Yes, you heard that right, Sheesh Mahal Udaipur is a restaurant of the Leela Udaipur Palace, serving you classic Indian dishes in a royal way. A romantic dinner date right below the stars against Lake Pichole overlooking the CITY PALACE is all one could desire for! I can't emphasise the detailing in each and everything be it cutlery or the red umbrealla or silver candle stands, everything looks incredibly luxurious.
In addition to Sheesh Mahal, Hotel Leela Udaipur boasts other restaurants like Amrut Mahal, and has various experiential dining options like the Master of Mixology among other exclusive services. All in all, while we're Indian food fanatics, we still got to try many international cuisines like Thai and Chinese.
Amenities and Activities
After exploring the city, Leela Udaipur is a home to various relaxation services for you to rejuvenate and provides all facilities you can expect from A Class Hotel. Spa, Gym, Yoga Sessions, and other activities, are all available at this place with standard 5-star costs.
We just can't recommend Rejuve Spa enough as it was much needed after that hectic day of travel. And the best part was the steam, sauna & infinity swimming pool here. The property also has a desk that helps you plan your city tour and outings if you wish to go all luxury, while the staff makes your time memorable.
Events and Information
Onto other things, while everyone's intrigued about the royal events that take place, the hotel delivers everything you need from grand weddings to exclusive events to hosting your guests.
Parineeti Chopra's recent grand wedding took place this year at Leela Udaipur. While all this requires pre-booking, it is very expensive, hence ask for quotes beforehand. You can be assured to be given a great experience and if you're looking for more information, you can visit their website or call them.
Hence, after living the Leela Palace Udaipur experience, it's safe to say that it is truly majestic. From the moment you step into the palace, to your stay and the checkout, you truly feel like you're out in heaven.
From the food to the service to the staff's behavior, it is perfect. So, let us know when you plan your Udaipur trip and share your experience about staying here, we'll see you with another blog, soon.