BUDAPEST TRAVEL GUIDE: PLANNING, TIPS, AND ITINERARY FOR YOUR VISIT
To the quest of finding Europe's most lively and affordable city, we finally found the answer: Budapest. Buda, home to royalty and several architectural wonders including Elven-style fortresses, is situated on the hilly west, while Pest, a modern commercial hub full with ruin bars, flea markets, hotels and piers, sits on the East. Together, the dynamic duo make for the scenic panorama that is Budapest.
When the two halves were merged in 1873, along with the old town of Obuda, little did anyone anticipate that the historical wonders, vibrant culture, temperate weather, and lavish delicacies would make this one of Europe's most visited cities.
Today, the urban cool vibe flirts playfully with the aged historical sites, a remainder of the opulent past and the subsequent upheavals this magnificent city, it's people and culture have withstood to emerge an exquisite locus of culinary and visual delights. Among the best things to do in Budapest, touring the city from the break of dawn through to the night via a number of travel options, has been rated best.
[toc]
ITINERARY FOR 4 DAYS IN BUDAPEST
So now you know where all you can go and best things to do in Budapest. But with so much to do it can be overwhelming to plan your trip around the city, so we're here to help. Let's help you with the Budapest itinerary so you know what to keep and what to skip on your first visit.
DAY 1
Explore the Pest Side of Budapest
Start at the emblematic building – The Parliament House of Budapest.
Take a stroll along the Danube Promenade
Pay homage at Shoes on the Danube
Lunch at the New York Cafe / Delhi Darbar for Indian food
Riverride bus tour or cruise tour of Budapest (for those magical Parliament shots)
Head to the centre and ride the Budapest eye
Enjoy the nightlife and watch the sun go down at the Chain Bridge
DAY 2
Start your day by visiting the St Stephen's Basilica
Make your way to the thermal baths
Spend a half day there
Get ready to tour the ruin bars
Alternately, you can also sign up for food tour / wine tasting tour (they are quite prevalent in Budapest)
Make sure you try Langos at Street Food Karavan (Address: Budapest, Kazinczy u. 18, 1075 Hungary)
DAY 3
Make your way to the Buda Side
Take a stroll over the Széchenyi chain bridge which'll end in the Buda side.
Explore Buda Castle, Fisherman's Bastion and Matthias Church
Lunch at the restaurant at Fisherman's Bastion
You can also opt for Children's Railway Tour
In the evening head to the centre in the pest side
Enjoy the nightlife (Go to Otkert, Corvin or Doboz)
DAY 4
Pest side again
Keep your itinerary light
Shop at the Central Market Hall
Visit Hungarian State Opera House, the House of Terror and the Jewish Quarter
Spend time at Heroes Square and City Park
Head to the Elisabeth Bridge
Climb up the Gellert Hill and get a good view of the Citadella
Stay back for the sunset
If you have more time at hand, plan a visit to the Margaret Island and try to spend more time in stylish Buda side of the city.
BEST THINGS TO DO IN BUDAPEST
There is so much of sightseeing to do and places to see in Budapest but we've put together a list of our favorite 11 in this article. Whether you a party lover or someone who adores the architectural beauty, there is something for you in this gorgeous capital of Hungary.
1. TAKE A TRAM RIDE
Trams are enormously popular in European cities, but Budapest's tram service might be one of the best. You can go sightseeing on the tram as it takes you through most of the city's wondrous sites. Do make sure, however, that you are always carrying a valid ticket- being fined is really not fun!
2. GO DIPPING IN THE SZECHENYI THERMAL BATH
Szechenyi Thermal bath  is one of Europe's largest thermal bath complexes awaits, enticingly, in Budapest. The entry ticket allows for the use of sauna, aqua fitness, and gymnastic services across the 21 pools housed in the complex!
You can easily spend half a day here, relaxing your muscles and letting the thermal water heal your worries away. Soothe your aching muscles after a day of walking around the busy corners.
If you want to try out more thermal baths in Budapest then go for Rudas, Gellert, or Lukács. If we have to go a second time, we might try the Gellert Baths but Szechenyi thermal bath was really great.
Szechenyi thermal bath is open every single day throughout the year. Booking online ticket with a Private Cabin would cost you around €20.
3. ADMIRE THE HUNGARIAN PARLIAMENT
The Parliament buildings is a magnificent domed structure on the banks of the Danube. Built in classic Gothic Revival style, the dome features Renaissance Revival architecture. Worth a visit to admire how 40 million bricks and 40 kilos of gold support the superstructure!
The magnificence of the structure would leave you in awe. In case you wish to do an inside tour of the Parliament, book your tickets in advance. It lasts about 45 minutes.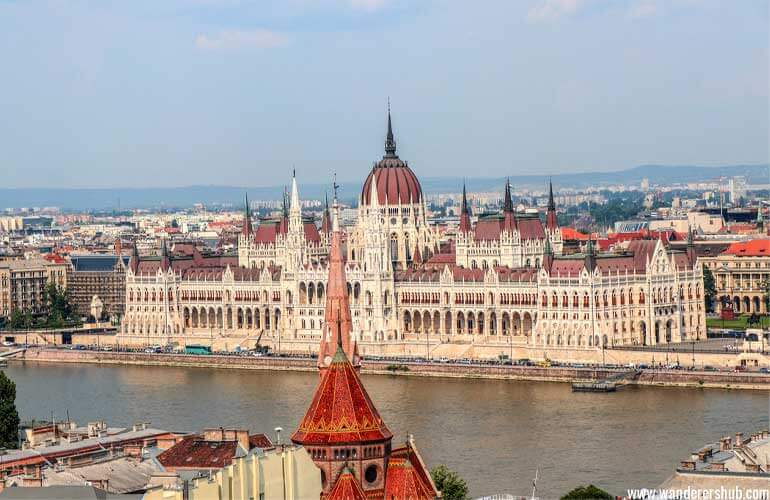 So much in awe of this beast of a structure
4. VISIT THE FISHERMAN'S BASTION AND MATTHIAS CHURCH
A romantic day well-spent I should say. We spent half a day at this gorgeous Budapest attraction and it was well worth it. Fisherman's Bastion is a neo-Gothic-neo-Romantic bastion overlooking the Danube and the city of Budapest.
A stone's throw from the Fisherman's Bastion is Matthias Church, a Roman Catholic church with some of the finest and most unique architecture of all European churches. Plan a half day visit to the two with a travel card for convenience!
Make sure you have a lunch at the restaurant overlooking the panoramic views of the Parliament House at the Fisherman's Bastion. The views are surreal!
5. PAY HOMAGE TO THE FIRST KING OF HUNGARY
St Stephen's Basilica houses the supposed right hand, or the Szent Jobb, of St Stephen, Hungary's first monarch. Also the largest church in Budapest, the building was opened to public viewing in 1905 and sports a neoclassical style.
We spent a lot of time here in the morning hours as well as during the night. Since it is located in the very centre, everything is at your disposal. Eat, shop, drink, party and have fun! You can even go to the top of the Basilica and enjoy stunning views of the city.
6. PHOTOGRAPH AT THE SZÉCHENYI CHAIN BRIDGE
Széchenyi Chain Bridge is a postcard-perfect suspension bridge that connects the adjoining east and west of the city. By either day or night, walk across the bridge to witness the marvel that is Buda on the one hand and Pest on the other.
We loved our casual walks by the Chain Bridge during night when it was lit and it's full glory. No wonder so many people are awake post midnight and always thronging around the bridge.
7. WALK WITH HISTORY
Shoes on the Danube might just be one of the world's most moving memorials. Conceptualised and executed by Can Togay and Gyula Pauer, the memorial displays an array of shoes belonging to the victims of the Holocaust – a genocide during World War II.
A stroll in the walkway shows a number of relatives laying flowers at the memorials of their relatives. Nighttime and flickering candles bring an eerie vibe, with an inevitable sorrow for the fallen.
8. RIDE THE BUDAPEST EYE
The Budapest Eye is a massive ferris wheel on the Erzsebet Square that provides stunning glimpses of the city.
It might be worth a visit when the sun has set, for the city lights up and the panorama is breathtakingly beautiful! Moreover, the park at the Erzsébet Square where the Ferris Wheel is remains lively in the dead of the night. Chill by the parkside and have fun.
Alternatively, you can also sign-up for the pub crawling experience with Free Pub Crawl Budapest.
9. SPOIL YOURSELF IN THE RUIN BARS
The Ruin Bars of Budapest are all the rage, and have been, since the setting up of the mecca of all ruin bars, Szimpla Kert, about a decade ago. Built in the former Jewish quarters which were abandoned post the Second World War, each Ruin Bar brings alive the hippest nightlife in Europe through it's vibrant pubs, bars, and discos, each imbued with it's own personality.
Go ruin bar hopping for a more diverse experience! You can even sign-up for the pub crawling experience in Budapest. It's one of the most fun things to do in Budapest.
10. SHOP YOUR HEART OUT!
Budapest has some of the best flea markets you'll find in Europe, so do shop your heart out. There are also some of the finest luxury brands retailing out of fine high streets, so you have the both ends of the bargain to negotiate on.
bI would recommend centre of the city for shopping high-end products but the real shopping fun begins at the Chinese market in Budapest. Let me share a secret – head to Józsefvaros for those amazing shopping outlets where you can buy sunglasses, apparels, shoes, umbrellas, etc. at incredibly cheap prices.
In case you are all about walking and hiking, check out these amazing hiking trails near Budapest.
11. SPEND TIME AT THE ELISABETH BRIDGE
Chances are for panoramic views of Budapest, you'd be visiting the Gellert Hill. So you get down at the third newest bridge of the city which looks an astounding beauty in its gorgeous white colour. It is a slender cable bridge that spans a length of 950 feet offering majestic views of the Buda and the Pest side above the Danube River.
There are pedestrian lanes on the sides of the bridge so take a long walk and admire the gorgeous views to your heart's content. It was indeed one of our favourite spots in Budapest for both spending time and photographing.
THREE TOURS WE DID
WINE TASTING WITH TASTE HUNGARY
Our most favourite tour in the city and that too for a reason. Read about it in detail and you won't be able to resist yourself from signing up for a wine tasting session in Budapest.
BUS RIDE ON DANUBE WITH RIVERRIDE
A sightseeing experience with a difference and a sense of thrill. You would love to hop on a bus that splashes into the Danube River and offers majestic views of Buda and Pest side. Get yourself the window seat as you wouldn't want to miss out on those gorgeous Parliament House pictures. See more from this riverride bus tour here.
FOOD TOUR WITH BITEMOJO
Tempted to try out all the culinary delicacies Budapest has at an offer? Well you should signup for this amazing food tour with Bitemojo. You need not look for the best bars in Budapest yourself as Bitemojo will pick the 5 best for you and you can easily make your way through each one whilst exploring the dainty corners of the capital of Hungary.
We did a night city tour of Budapest with Bitemojo and it was amazing. You can read all the details here.
HOTEL RECOMMENDATIONS FOR BUDAPEST
I usually do not give hotel recommendations but this one is the most asked question on my Instagram handle. So here you go-
LUXURY HOTELS IN BUDAPEST
Four Seasons Hotel Gresham Palace Budapest – This one's a no-brainer. If you have a budget of €600 a night then you should be staying at this luxury nest. It is located right at the end of the Chain Bridge.
Budapest Marriott – You need solid river views, chic interiors and uber luxury on your visit then you must stay here.
The Ritz-Carlton: Situated in a posh property amid leafy boulevard, this one is right in the centre of Budapest. This hotel in Budapest is all about luxury and class.
MID-RANGE HOTELS IN BUDAPEST
Continental Hotel Budapest– Fancy spoiling yourself for your time in Budapest but within a budget, book Continental Hotel Budapest.
Casati Hotel Budapest – Another centrally located hotel with contemporary construction. It's an adult-only hotel.
Hotel Palazzo Zichy – This hotel lies in the historical Palace Quarter and is well renowned for its hospitality and its plush services.
BUDGET HOTELS IN BUDAPEST
Novotel Budapest Centrum – Novotel is certainly priced well considering it central location and modern amenities. Good for families.
Ibis Budapest – Another budget chain hotel in Budapest that boasts of great facilities at nominal price. So, you know where to sleep when you want novelty at a budget.
Budapest Panorama Central – A great pick for laid-back travellers who do not want to spend a bomb on accommodation in the city. An awesome value deal!
BUDAPEST TRAVEL CARD
Unless you really want to travel by foot, consider getting a travel card. You can choose from a 24-hour travel card, 48-hour pass, or a 72-day travel card, contingent on how long you want to spend in the city and what you wish to do while you are there. There are significant advantages to getting a travel card and they are as follows:
1. You won't waste time buying tickets every time you need to use public transport while in the city.
You won't have to remember to validate your ticket every time.
You can use any means of public transport as many times as you want every day.
You'll avoid any possible penalty fares (and there can be many!).
You'll be at an ease during the night as buses would still be at your service.
So if you are in two minds about whether you want to get a travel card for your time in Budapest, consider that it saves you a ton of time and brings you the convenience of a one-time purchase that allows you to wander freely with no restrictions!
Plus Budapest is really big, though completely walkable. But if you want to see more, do more, and enjoy a lot more, buy the travel card.

IS BUDAPES00T SAFE?
Budapest is as safe as any other in Europe! Crime is not that rampant but that shouldn't make you any less cautious. Always use your common sense when using public transport and try to stay in tourist-heavy areas.
You'll feel at ease walking around the city at about any hour of the day or night. Just make sure you don't take unnecessary risks and stay in the city center especially during the night.
We found the area around Budapest Eye and the Chain Bridge to be really safe at all the times so you can plan your trips accordingly.
That's all for the Budapest travel guide and all the fun things you can do in the capital of Hungary. We had the most fun hanging around in the nifty corners of the city. Let us know in the comment section if you found this helpful.
*****