PLANNING A TRIP TO MOUNT RIGI FROM LUCERNE SWITZERLAND
Mount Rigi Switzerland offers some of the most breathtaking panoramic views of the Swiss Alps. Itis one of the most often visited summits in Switzerland and is often voted to be amongst the most scenic and well kept in the world. A trip to Mount Rigi would include a train journey to the summit of the gorgeous mountain, and a short cruise on Lake Lucerne. Mount Rigi from Lucerne is a favorite among tourists, as it offers an exciting chance to cruise along the scenic lake. So, we did not think twice before hopping onto the opportunity and visiting Mount Rigi on our visit to Lucerne.
QUEEN OF THE MOUNTAINS
We were especially lucky to have a clear blue sky and really good weather that day that made our trip super comfortable! It is said that on a clear day, it is possible to spot 7 lakes from Rigi Kulm, and you shouldn't miss going to Mount Rigi from Lucerne and vice versa! The views from the top sweep over not just but as far as Black Forest. It would be ideal to visit Mount Rigi during the early morning hours as its less crowded by that time.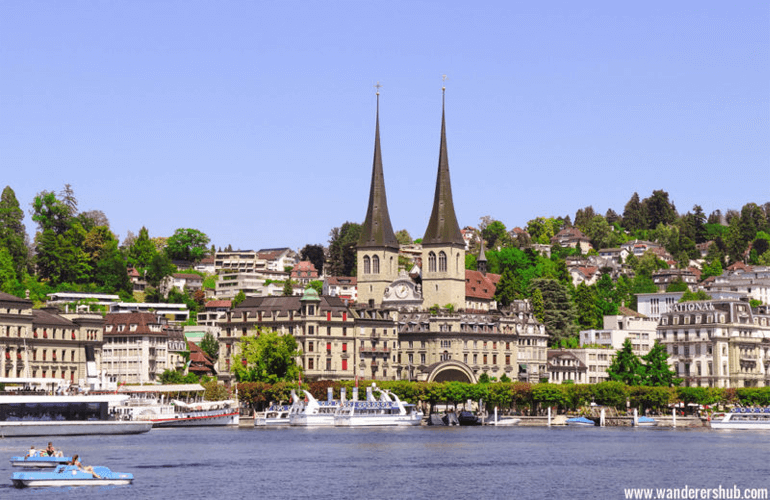 JOURNEY TO MOUNT RIGI FROM LUCERNE
Option 1 Lucerne – Vitznau – Mount Rigi (includes cogwheel rail ride)
Option 2 Lucerne – Weggis – Rigi (includes cable car ride)
We took the trip to Mount Rigi from Lucerne, and began our journey by riding a cruise from Lucerne to Vitznau, which was a cozy ride through and through. The ferry terminal sits bang opposite the train station and is quite hard to miss. So, you get out of the train and head directly to the ticket counter, check the timings, and wait for the cruise. The departures are pre-scheduled and the cruise leaves every hour or two so you can come at any time in the morning and be sure of catching the cruise.
The upper level is more plush, and is reserved for tourists with a first-class ticket – sometimes it's certainly worth paying those extra dollars! The journey from Lucerne onboard the cruise was splendid. We just enjoyed the scenic beauty and captured the same in our heart and soul. Next, we took the infamous cog rail from Vitznau up to Rigi Kulm Switzerland.
RIGI IN PICTURES
The Vitznau Line, which runs from Vitznau to Rigi Kulm, is the first mountain rack railway in Europe and the second such railway in the world. The train is extremely well built, and it halts every few stops apart. This means you can get off and have the option to hike. We, however, decided to sit back, relax, and enjoy the scenic ride.
In about forty-five minutes, we had to deboard as our train had reached Rigi Kulm.
But you also have a few other options for reaching Mount Rigi from Lucerne. You can ride the ferry from Lucerne to Weggis and take the cable car to go up to Rigi, which is a mere 15 minute ride away. From Weggis you can also take the cable car going up to Rigi Kaltbad, which is about a 10 minute ride away.
RETURN
Now for the return we did not follow the similar route that we took to reach Rigi. Instead we boarded the blue train down to Arth-Goldau that is popular for its scenic route. This way we could also skip the cruise from Vitznau to Lucerne. We instead took another train back to Lucerne (this was covered under the Swiss Travel Pass) for a good rest.
The cogwheel took us on another breathless escapade as we came back. It moves at a leisurely pace to ensure you have enough time to give your eyes a treat. Straddling beautiful lush pastures with the odd cattle grazing, and a couple of solitary dwellers, the surroundings were almost blanketing us in a warmth despite the biting cold.
RESTAURANTS AND SHOPPING
Around 30 restaurants in the area cater to a wide palate of tastes- everything from simple snacks to plush Gault & Millau dishes can be found here. You can enjoy spectacular views of the Alps from the rooftop terraces and can also watch the sun set.
A small souvenir shop at the summit of Rigi Kulm Switzerland should satisfy all your shopping fantasies. A number of stores in Rigi Kaltbad can be browsed for keepsakes from the area. It is no wonder that a trip to Mount Rigi from Lucerne is so popular among tourists.
MOUNT RIGI SWITZERLAND WITH SWISS PASS
Something that made our journey a lot more accessible and comfortable was our Swiss Pass. With the Swiss Travel Pass, travel to Mount Rigi Switzerland is free!
We would like to thank Switzerland Tourism Board for supporting our trip.  They made it possible to see the best of Switzerland at our own pace.