ALL ABOUT OUT VISIT TO MOUNT TITLIS SWITZERLAND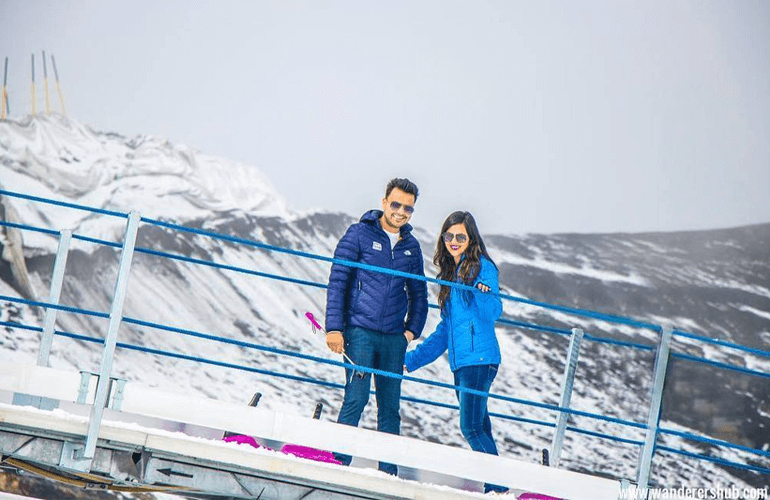 We walked into a blanket of ice like we've never done before. For our thrill of experiencing surreal landscapes and exposing ourselves to the uncommon, we decided to take the journey up to Mount Titlis Switzerland and immerse ourselves in another world altogether – a world of pristine while mountains, drenched in inches of fresh snow and a repository of the world's most actionable snow activities!
To begin with, unlike most mountainous ranges with heavy snowfall, Mount Titlis offers an abundant bunch of activities you can involve yourself in.
In fact, before you even land up in the stunning ranges, you're more than likely to be bombarded with a bunch of trip agents offering you discounted fares to activities that people usually enjoy at Mount Titlis Switzerland.
Don't cringe already – some of these are actually pretty useful! But before you make up your mind about what Mount Titlis activities and tours you want to book, take a look at the options you have!
1. MOUNT TITLIS CABLE CAR
Cable cars run smoothly and efficiently up the peak – unless you're caught in bad weather! The cable cars at the base are often available to book at the booking counters. And unless you're in peak tourist season, you're more than likely to manage a ticket soon enough.
Check these Stunning pictures of Kashmir
2. MOUNT TITLIS ROTAIR
The cable cars that you can ride up to the peak aren't your usual cable cars: there are some innovative ones, like the rotating cable car, which claims to be the world's first, and rotates it's way up to a 3000-odd meters above sea level. You won't miss a single view!
Cliff Walk & Suspension Bridge
The Titlis Cliff Walk notoriously maintains it's reputation for terrifying many. What with the 150-odd steps one must take to cross Europe's highest suspension bridge!
Once you're up there, however, a view into the freshly minted abyss (it almost perpetually snows up there!) and you're good to complete the rest of the walk.
4. ICE FLYER
If you thought cable cars were as venturesome the Swiss could get, think again. The ice flyer suspends you to ice cold winds stinging your face as you get what is arguably the most stunning view of the snow studded peaks around you!
With a seating capacity of between four and six people, you can choose to snuggle up with your loved ones as you take the plunge into this one-of-a-kind cable car. The Ice Flyer, adored by many, takes one directly to the nest most exciting place on the peak list- Glacier Park!
5. GLACIER CAVE
For the many daring ones amongst us, Glacier Cave offers something that promises to leave you breathless: amidst walls of glitzy snow on both sides, the snow cave takes you through a 150 meter- long tunnel through the Titlis glacier. What's more, you don't need to pay an entrance fee, and can take the talk through the tunnel at leisure!
6. Snow Park
Once you think you're done doling out the dopamine, consider some amusement activities at Snow Park. From snowtubing to sit skiing, there's a whole host of snow games awaiting you! The activities are safe and ensured. You can simply sit back and enjoy the ride after a day's exploration!
Good Old Dose of Bollywood
Often dubbed Bollywood's favourite peak, this is where a number of Bollywood flicks are shot, with the panoramic Alps playing silent witness to our Bollywood heroine and heroes' midsummer frolicking.
So while you may not realise it but you've probably been on a visual tour of this pretty peak a bunch of times in those Bollywood masala flicks!
Needless to say by the end of the trip we were two happy souls
Now that you know what to look out for when you're heading to the gorgeous range, we'd advise you with a word of caution: the Alps are no place to gamble your health.
Keep these things in mind before heading out, for a safe snow experience!
Wear comfortable waterproof shoes or boots for walking in snow.
Take sufficient woolen gear with you-like a thick winter jacket, a woolen cap, muffler, gloves and plenty of woolen socks. (P.S. Trudge up the pairs of socks you carry, and change them often, since wet feet can cause a lot of problems!)
Carry your goggles. The sun is harsh at higher altitudes, though you may not feel it due to the cold.
Lather on your sunscreen periodically for the same reasons!
It's advisable to pack a lunch from the ground station or from Lucerne or Engelberg itself, since there aren't many options up the mountain.
Also keep a water bottle with you, even if you think you won't need it!
If you are prone to altitude sickness, carry your medicines with you and halt at each cable car station. Give yourself some time there to settle and adjust to the altitude. Once you do, move on to the next station that's at a higher altitude.
From Engelberg, to embark on cable car journey to Mount Titlis you can get tickets on the official website. You can also get them from the ticket counter at the cable car station. Or, you can book a skip-the-line group ticket through viator or any standard tour operator. They hand you the tickets (at a little extra cost, of course) and let you have your day your way.
If you are with a kid then it's important to check beforehand if you are eligible to take the ride up the mountain. Also, kids under 2 years of age are not allowed at such high altitudes.
There are some activities that you can do here like bike rental, skiing etc. You can rent skiing gears as well if you are adept at skiing, since there are no instructors available here.
We went in August and it was chilling cold up the mountains. So, I guess winter will get even more harsh. Also if weather is not supportive and heavy snowfall is happening the tours might get cancelled.
So, time your vacation accordingly. And remember that you must visit Mount Titlis Switzerland once in your life is where I'll close this!