REMA RESORT PARO: THE ONE WITH PICTURESQUE VIEWS AND STYLE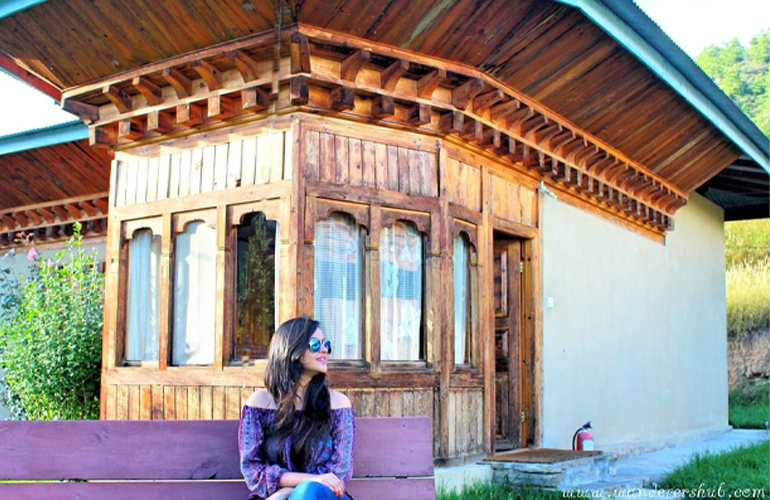 I'm sitting on a bench on the front porch of my cottage. I can see the panoramic view of the Paro Valley beautifully surrounded by green paddy fields and fruit laden trees. My eye is time and again drawn to the tempting Paro River and mountains looming in the distance. 
*****
During our visit to Bhutan, we got a chance to stay in the gorgeous Rema Resort located on the quieter north side of Paro valley. Honestly, we didn't know what to expect from the hotel in terms of location or services as we had booked it simply on a whim, just a day before arriving in Paro.
We arrived at Rema Resort quite late one morning and trust me I couldn't stop marvelling at how peaceful and tidy it was.
CHECKING INTO REMA RESORT, PARO
Deciding on hotels for staying in Bhutan was a task in itself for us. But the moment we caught glimpse of the resort from the outside, we could imagine what lay ahead.
It was still cold in Paro but the moment we stepped inside the rooms we felt warm. The overall resort has been designed in tandem with the Bhutanese way of living with breathtaking ambiance. Of course, there is complimentary Wi-Fi, which is why we chose to stay in the resort at the first place.
LOCATION
Rema Resort is literally between these striking valley views on one side and Paro river banks on the other. The town itself is so small that no location is bad. But if seen in relation to the views, this one shines. Also, the resort is about 20 minutes walk into the city center and you can reach there easily by jumping on a taxi as well.
ROOMS
Our gorgeous wooden room at Rema Resort Paro was equipped with all luxuries we could want – a large king-sized bed, bedside table lamps, complimentary coffee facilities, a nice balcony with sitting space, and lots of storage. Though the bathroom was not exactly a luxurious one, it was pretty nice with a bathtub and tiny bars of scented soaps.
To watch the sunset, while we had our locally sourced dinner minutes before snuggling into the comfiest bed while desiring of settling down in Paro forever, there was nothing short of magic.
DINING AT REMA RESORT PARO
Rema resort Paro is not for those who love wholesome breakfasts. Their morning buffet includes just about a selective assortment of fresh fruits, juices, white bread, and eggs.
We ordered Indian dishes at night – Paneer Masala and Dum Aloo – which were just about, average. The food wasn't pricey either (just inclusive of 20% mandatory tax).
You can book a night's stay in a Cottage at Rema Resort for $75 per night, twin share basis. 
Have you read our post on cultural delight: festivals of Bhutan yet?
Here's a virtual tour of our room: