HOLI FESTIVAL IN INDIA – YOUR MANUAL FOR CELEBRATING THE FESTIVAL
Holi festival in India announces the advent of summer time in North India. It's a time of fun, frolic and absolute exuberance marked by bright colours and the occasional splashes of water here and there. Though regional variations apply, as they do to any other festival, Holi manages to bring together people with delicious gujias, bhaang and lassi which is found throughout the country! If you're in looking to celebrate Holi festival of colours, consider these four jammin' places to visit in India for a rocking soiree!
WHERE TO HEAD FOR A ROCKING HOLI INDIA!
As someone who has grown up celebrating Holi in India every year since childhood, I highly recommend foreign tourists to visit the country during the festival time and witness the splendor with their own eyes. You can find townsfolk smearing heaps of scented colored powder over one another, dancing under water showers and partying like there's no tomorrow. Tourists visiting India especially during Holi festival should consider these cities for the celebrations:
FLOWER HOLI IN VRINDAVAN, UTTAR PRADESH
Head to this religiously fervent town in Uttar Pradesh, if you want a super authentic Holi experience. The birthplace of Lord Krishna, the Banke Bihari temple along with those devoted to Lord Krishna usually start Holi preparations weeks in advance! You can't miss the loud chanting and scrumptious ghee delicacies here!
WHAT IS IT FAMOUS FOR?
Also called Phoolon wali Holi or Rang Bharni Ekadashi (Holi with flowers), Vrindavan folks celebrate a unique style of Holi at the Banke Bihari Temple on Ekadashi prior to the festival. It is different because the townsfolk use only flowers (and not colours) to play Holi with each other. This Holi used to be popular amongst the people of Uttar Pradesh only but now others are getting to know about it. It will be an experience of a lifetime to witness priests showering flowers on everyone gathered inside the Banke Bihari Temple.
WHERE AND WHEN?
Vrindavan's Phoolon wali Holi is a really short affair which lasts about 20 minutes so you need to be present inside the temple at that time. Or you can very well miss this chance. It starts at 4 p.m. usually inside the Banke Bihari Temple, Vrindavan.
Phoolon ki Holi festival in India will fall on the 6th March.
Also Read: Things You Can Do in Vrindavan
Phoolon wali Holi in Barsana Uttar Pradesh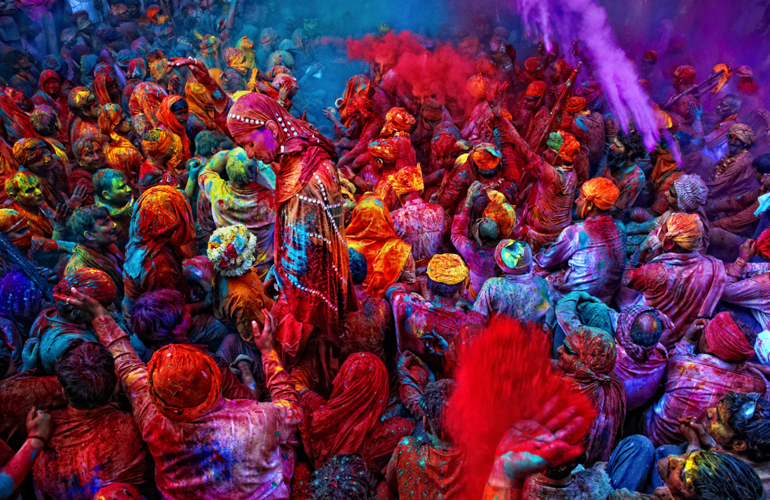 Vrindavan holi
LATHMAR HOLI IN BARSANA, UTTAR PRADESH
Barsana is the village where Lord Krishna supposedly used to go to tease young Radha and her friends. To chase them off, these women often used sticks, a ritual they still comply with, to this day. Hence, the name – Lathmar Holi or Holi with stick. This Holi festival is worth a visit but just make sure you reach Barsana a few days in advance of the Holi processions. The time leading to the festival is all about fun, colours and enjoyment. You can experience Laddoo Festivities during this time when townsfolk sing spiritual songs and throw sweets on one another.
WHAT IS IT FAMOUS FOR?
What you'll see: a bunch of women at their energetic best, showing off their skills at using a stick (lathi). Eeks! They use sticks to beat men from the nearby villages who come happily to be a part of these festivities or rather to be beaten by the neighboring women. I'd suggest foreign tourists to opt for guided Holi tour in Barsana as Indian men in Barsana are notorious for getting a bit rowdy or rather handsy with women in the guise of celebrations.
WHERE AND WHEN?
Lathmar Holi is celebrated in Barsana and Nandgaon, a week before the actual Holi event. This year the festival will be celebrated on the 4th March in Barsana. And subsequently on the 5th March in Nandgaon.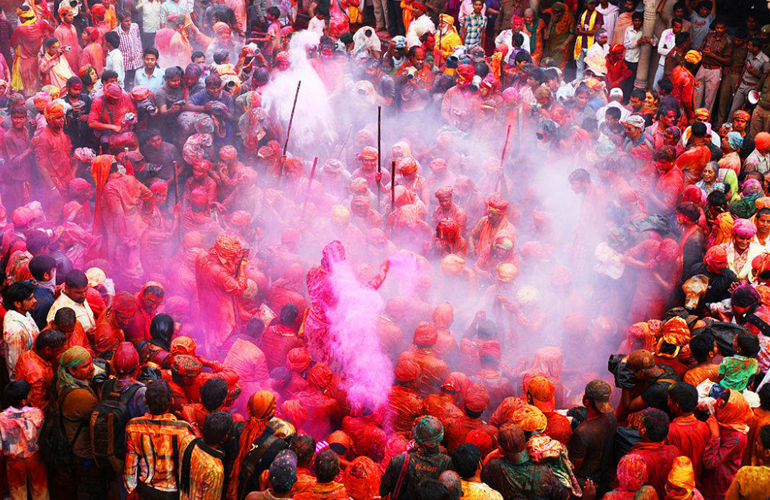 Barsana Holi in Uttar Pradesh India
MUSICAL HOLI IN DELHI
Holi festival is celebrated on a grand scale in the Capital of India, and a lot of expats especially travel to India to take part in the festivities. It is all about music, dance, colours and social interaction in Delhi. On the day of Holi, you can find groups of people out on the roads  to play with colours, water balloons and share sweets with each other. The traditional celebration is no less than a carnival, and if you don't know where to go, just sign-up for a Holi party in Delhi.
*You can avoid celebrating Holi in Paharganj area as the celebrations can get rather wild and anarchic.*
WHAT IS IT FAMOUS FOR?
Delhi ushers in a fascinating spectacle on the morning of Holi where men and women of all age groups come out on the streets to paint the town all hues of red, blue, and yellow. Many Holi parties are organized in all parts of Delhi, so if you don't know where to go for enjoying Holi in Delhi, simply sign-up for one. Expect anything from rain dance, baggi rides to bhangra performance and musicians putting on performances on a large scale.
WHERE AND WHEN?
Holi festival in Delhi is on the 10th March. Join in any Holi party to experience the exuberant and high-spirited celebrations by Delhiites.
Also Read: Free Things to Do in Delhi
BASANTA DOL HOLI AT SHANTINIKETAN, WEST BENGAL
This cultural hub in West Bengal hosts one of the most amazing Holi celebrations you'll ever witness in India. Inaugurated by Rabindranath Tagore, the Basanta Dol Holi here is celebrated by the students of Vishva Bharti University who dress up in bright clothes and put up a cultural show for visitors.
WHAT IS IT FAMOUS FOR?
Holi in Shantiniketan is celebrated in the most carefree manner, with all women being dressed in yellow garb putting on dramatic performances, singing and rejoicing on the tunes of Rabindra Sangeet. The gorgeous cultural extravaganza gives you an insider peek into India's heritage. It is an impressive riot of colours and tourists get a chance to participate in an eclectic festival. Chat and meet fun and interactive artsy colony of West Bengal.
WHERE AND WHEN?
Holi celebrations at Shanti Nikentan will begin on the 9th March and will run till the 10th March. Do not miss the cultural performance by enthusiastic students of Shantiniketan during Holi festival India.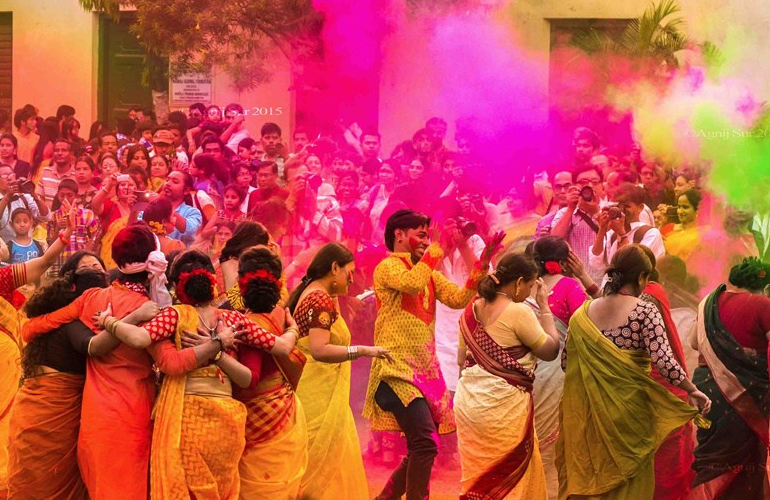 Shantiniketan, West Bengal Holi
HOLA MOHALLA IN ANANDPUR SAHIB, PUNJAB
The Warrior Holi celebrated at Anandpur Sahib in Punjab is a force to reckon with. Men dress up in matched outfits put on a mock battle show. A highly energetic and full of passion Holi this is!
WHAT IS IT FAMOUS FOR?
This Holi festival in India is renowned for a spectacular exhibit of martial arts techniques, mock battles, and display of real weapons. You'll be seized in an electric ambiance, and after the parades by youths and daredevil showcase of Sikh bravery, you can join the langar at Gurudwara. It is more or less a demonstration of Sikh's martial arts and pride, which is something to look forward to.
WHERE AND WHEN?
Hola Mohalla in India will begin on the 10th March and will go on till the 12th March.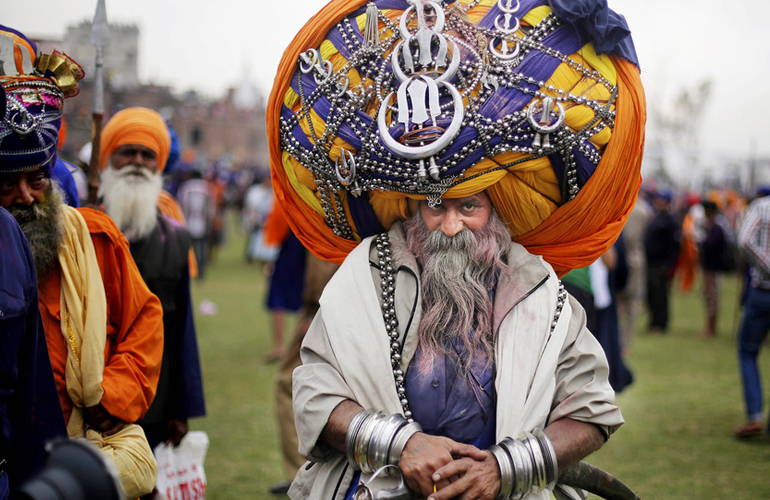 Hola Mohalla in Punjab
SOME RULES OF HOLI CELEBRATIONS
Do wear white if you are totally confident about it. Though I have my reservations about choosing the color because it becomes transparent after buckets of water being poured onto the bodies. And well in India, you will certainly grab way more attention than anticipated when wearing white. Still if you are confident about it, then go for it!
Don't forget to put on the moisturizer. This has to be the first thing you gotta do before leaving your home on the Holi day. And the best go-to moisturizer which would help avoid damage to your skin with all the colors drenching during the festivity is coconut oil. In fact apply coconut oil on your face as well as the body in generous quantity.
Do hydrate yourself properly. With all the running and yelling going on while celebrating Holi festival India, you are sure to get a bit dehydrated. Keep bottled water handy with you. And whenever you get time, don't forget to gorge on pakoras and garam chai (Indian tea) !
Don't leave the colors on yourself for too long. The color can stain due to sweating and can enter your eyes. More than that, if others aren't using herbal colors then that can irritate your skin and even result in rashes, acne in worse case! So, head to the shower panel fast!
Do remain safe and protect your belongings. During Holi festival celebration in India, people can get a bit rowdy (especially men). Be extremely careful and avoid going in areas where you see big groups of guys! Cases of groping and molesting are on a wee bit high during this time, which means you need to be extra-attentive about yourself and your surroundings. Don't carry cash or anything that you might not want to ruin forever!
Don't harm animals. It's not fun to throw colors on dogs as the colors might irritate their skin and get them sick. You must not make your happiness a cause of suffering for poor animals.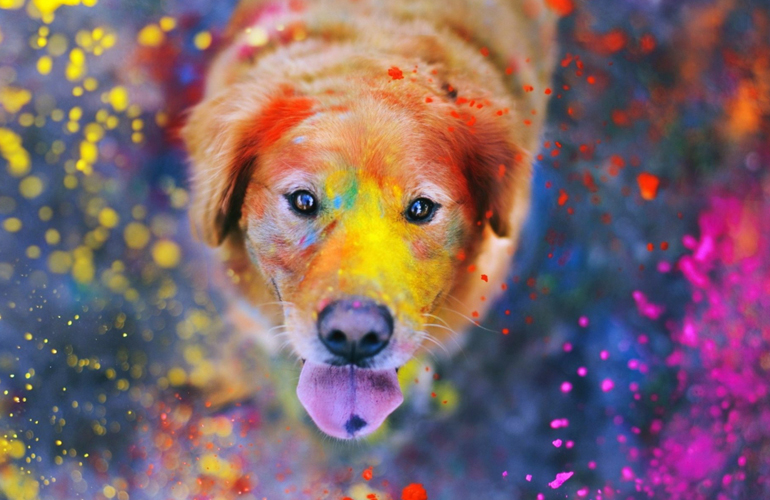 Holi India festival
HOW TO SAFEGUARD YOUR VALUABLES?
Before you go out to play Holi, leave all precious items back at your hotel or your car. If you want to carry a little money, make sure you put that in a waterproof case. For the cellphone too, carry a waterproof pouch, if you cannot avoid to leave it for the festivity.
Apart from everything, don't forget to have fun during Holi celebration in India! Click many many colourful Holi photos and add colors to your life as well as social media walls.
India holi festival celebration