BEYOND SHIMLA: AN UNFORGETTABLE STAY IN MASHOBRA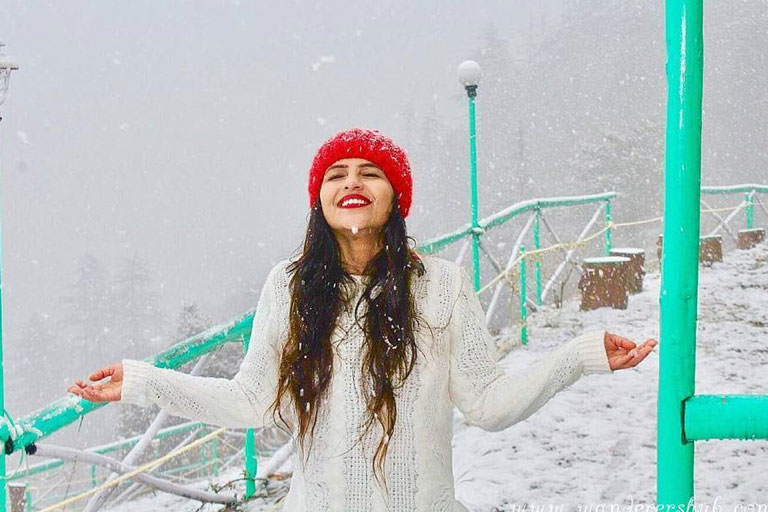 A cozy little hill station in the Shimla District of Himachal Pradesh, Mashobra is one of those few picturesque places that not many know of.
In this day and age, where all such scenic locations have become crowded tourist hubs, Mashobra retains that quiet tranquillity that eludes us in everyday life. You would not be able to move your eyes off the views of virgin valleys & mountains, the coniferous trees, and the terrace farms – ah, those sights are simply divine.
We were overjoyed being surrounded by the gorgeous Himalayas on all sides, unaware and unprepared for the guest appearance of snow. We couldn't stop gawking at the breathtaking views that literally took our breath away.
It's just not possible to exaggerate the sheer spectacle of this place that is marked for its interlude beneath oak and pine. In fact, it offers the ideal conundrum for the luxury traveler who seeks a bit of peace and quiet!
We sought accommodation at the TNF Cottages, definitely one of the most scenic existing in Mashobra as of now. The cottages were nothing what the hotels in Mashobra Shimla, Himachal Pradesh would offer; though the connectivity and lack of proper signages can pose a bit trouble for the essentially ease seeking travelers. That's also because the cottages are located in dense jungles, just a kilometer drive down from Mashobra Greens.
The stunning landscapes one can witness from TNF Cottages are nothing short of magnificent. We were quite excited to see the kind of accommodation they provided within the dense forests.
Rooms at TNF were clean, though not equipped with hot showers, which was well-compensated by the hot water buckets they provided generously whenever we asked for.
We savored 2 days of snowy Himalayan weather, delectable meals prepared with love, and breakfast buffets of our choice.
Regardless of whether one is a nature-lover or not, the virgin beauty of Mashobra is sure to mesmerize one and all! TNF also makes arrangements for outdoor activities such as camping, trekking, and zip lining provided the weather conditions are suitable.
With the more developed town, Shimla just a 20 minutes drive away, it was perfect to indulge in Himalayan glory, away from the humdrum in Mashobra. Though it snowed the first day we arrived at TNF, it didn't snow the next day, thankfully, which made it easier for us to explore the tiny hill station. Take a look at the photo story to know about things we did on our visit to Shimla.
To enjoy a dreamy place like this homey hill station, all one needs is an adventurous spirit, love for simple pleasures and perhaps some good company. Weekend getaway, anyone? Head to Mashobra!
Planning a trip to Himachal Pradesh? Check out all
Pin me: