DISCOVERING THE HEART OF SUFISM: AJMER SHARIF DARGAH
Ajmer is another charming feather in Rajasthan's cap. I have wanted to visit the city because even as it is a sizeable township, it's not a mainstream tourist destination, in the way places like Jaipur or Jodhpur are.
I wished to see what lies in a city that is not so full of tourist traffic, yet retains the cultural vibrancy, this state is so well known for. The town is a home to numerous historic sites, and the most fascinating, of course, is Ajmer Sharif Dargah. But what I loved the most is how diverse communities coexist here, giving the town, it's hallmark of hybrid culture.
Our First Visit To Ajmer Sharif Dargah
There are some experiences in life which outdo your expectations. Visiting the famous Ajmer Sharif Dargah in Ajmer can be counted as one for us. Before making the trip, we'd assumed from Ajmer Sharif Dargah photos that it would be just like any other major religious destination with the flower, the holy chants and the mysterious aura that surrounds.
As it turned out, when we reached the dargah, these were not the first things we noticed. What lay before us was a vibrant throng of people, all heading towards the main shrine, going up a narrow street, in an unhurried, orderly fashion. So many followers, of so many faiths, visiting the Ajmer Sharif shrine with hearts full of desires, expectations, and answers to their questions from the almighty! Trust me, it was a sight to behold.
What to Expect on Your First Visit?
It is one of the most frequently visited pilgrimage places in Ajmer and the peace and tranquility surrounding it makes for an experience like no other. From what I could tell, people of varied faiths were present; a fact that was confirmed by a local got talking to there. He also told us about the history of the dargah which houses the grave of Persian Sufi Saint Moinuddin Chisti.
The shrine was built by Humayun in the 13th century, post the demise of the severed preacher. As pre-empted by our local informant, the interiors of the shrine were absolutely stunning. White marble and gold plating adorned every surface and spiritual seekers were touring the pathways in a directional pattern.
Following them – for they seemed to be more familiar with the holy protocols – we made our way into the dargah. On the way inside, it was a good divine walk of 10 minutes. No doubt, there was a queue. We were strongly warned by local people of Ajmer to remain careful during our visit so we did not remove our shoes outside.
There were numerous little shops that were just glittery and a treat to the eyes. We kept our shoes in one of the last shops of the market, bought rose petal basket from there, and made entry into the premises.  We performed all the rituals, made holy offerings of rose petals, were blessed by a peacock-feathers'-wielding priest and then eventually, almost regrettably, left. :-/
As we exited and entered the outer premises of the dargah, we saw a lot of men and women sitting on the floor, waiting for the clock to strike 7, so they could do their namaaz.
What struck me most about the dargah was that despite being such a famous shrine, visited by people from all over the world, there was nothing touristy about the experience. Everyone present there, including us, seemed to be engaging with the indomitable spiritual energy in the atmosphere.
You can't help but be nudged into a place of deep thought and introspection here. And so, I wouldn't be surprised to find myself headed to the Ajmer Sharif Dargah again sometime.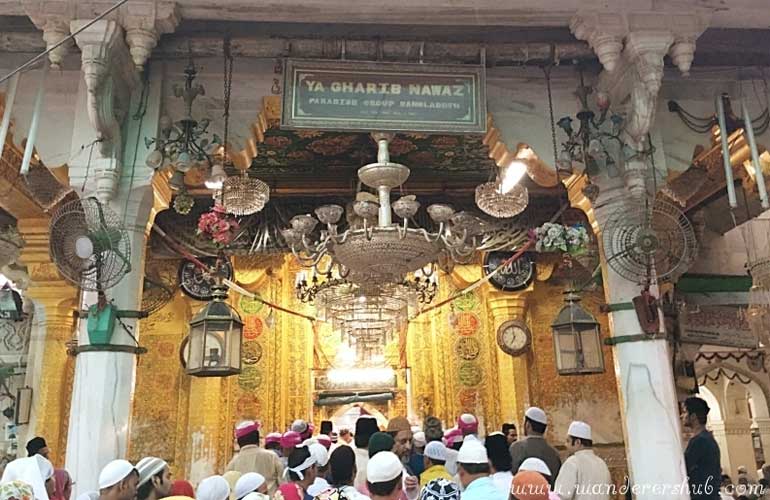 Planned Your Visit to the Dargah Already? You Should be taking these Points into Account: 
For parking – there is a parking area designated near the Ajmer Sharif Dargah – hardly 10 minutes' walk from the shrine. We took our car through the outdoor bazaar towards the dargah, only to be stopped by the barriers, and go back to park the cars outside. We did as asked. The parking fee is 100INR.
It is important to dress modestly and carry a head cover, for you'd be asked to cover your head inside the mosque. Dressing modestly is one of the major requirement not only for a visit to dargah but any other religious site in India. So, one should dress modestly for conservative countries.
Bring as little stuff along with you to the dargah as possible. There are many pickpockets preying on the visitors. And as it can get really crowded inside the mosque, you might not even have space to move so the chances of losing your personal belongings are higher. So leave your wallets and cell phone back in your hotel.
The road from the parking area to the shrine has hoards of beggars trying to get your attention, who will swarm you from all sides. Don't give alms to beggars.
As soon as you drop your shoes and make your way into the dargah, you might be approached by a Sufi man who'll take you to perform some rituals and offer a donation. You need to be supremely cautious and avoid being called by people around. Head straight into the dargah.
Expect a fair amount of pushing and shoving since the entry to the main tomb gets really narrow. Just take your round around the tomb as fast as possible, offer prayers, and come out.
Planning an itinerary for South Asia? You must read our articles on India, Bali, Bhutan, and Maldives as they will come in handy!