I peek through the little window of the aircraft and see the cotton candy clouds playing around in the deep blue sky. The horizon tugs at my heartstring and I want to keep glancing at the breathtaking vistas of this veritable paradise. The violet wing of  Vistara complements the entire scenery so well and am sure I am gonna travel in this gorgeous bird soon again!
We scoured the internet for best flights deals for Andaman for April travel, and luckily struck gold with Vistara's special offer! As enthusiastic travelers, we are a sucker for all things shiny and pretty, and on the top of that, we had always wanted to fly in the airlines ever since its commencement in June 2014. Double whammy for us! Pretty late indeed, but we finally got the chance to fly with Vistara. 😉
And to say the least, our flying experience with the airlines topped all expectations, thanks to its first-rate services and warmest hospitality. 🙂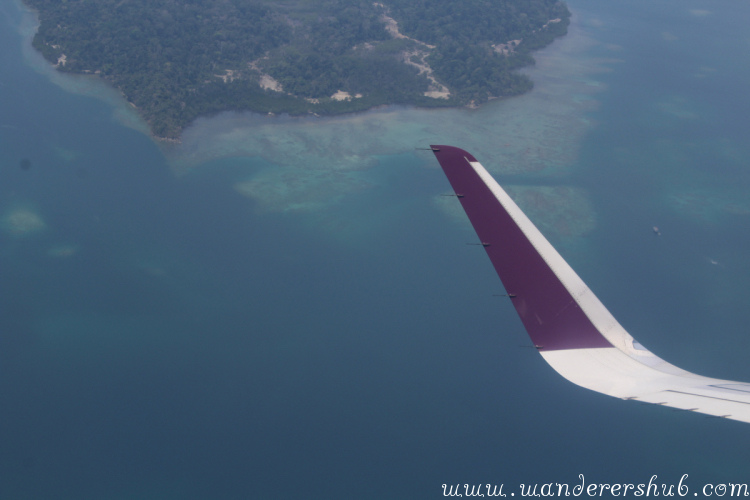 What Stood Out for Us?
Hospitality
Both of us love comfortable flights but there is nothing we hate more than unfriendly crew members. Fortunately, the crew members of Vistara had cheery smiles stuck on their faces all along the 5-hour journey.
The staff was so considerate and accommodating, which made a huge difference for us. In fact, the attendants got quite zesty when we told that we wanted to take a few pictures with them for our blog and share with our avid readers. 
In-flight Dining
Vistara surprised us in many ways but more particularly bowled us over with their meticulously put together food menu. You get a healthy and interesting mix of cuisines packaged properly in biodegradable boxes. Kudos for that! Business class is served meals in fine linens and bone china tableware in the best Indian airlines.
#Interiors are pretty standard, though the seats are finely tailored and totally upto the mark. The ergonomically designed flight seats make for an experience that's class-apart; surely something that we've not experienced in other domestic flights operating within India.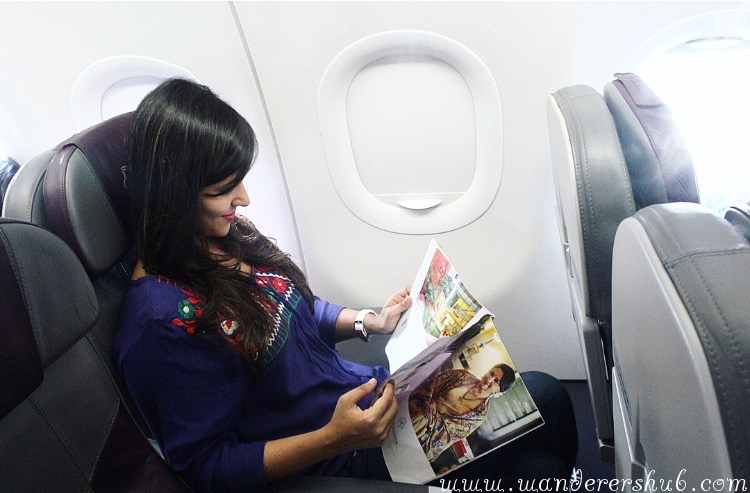 Let's Get FACTY!
*The domestic airline, which was conceptualized as a joint venture between Singapore Airlines and Tata Sons, is headquartered at Gurgaon, in the National Capital Region. The airline has grown tremendously since, and last we heard, has a 2.3% share in the Indian domestic airline market.
*Although the carrier was envisaged with the vision to cater to the high-end business class in India, and was thus designed and planned differently from other carriers, it now functions as a full-service carrier that flies passengers to over eighteen destinations across the country. The primary fleet is made up of Airbus 320.
*The airline also has interline agreements with a number of aircraft carriers from around the world, including Air France, British Airways, SilkAir, Japan Airlines, Kenya Airways, KLM, and Finnair. Vistara is all set to capture a larger market in India with its exceptional service and low flying costs.
In all honesty, on India's most wonderful aircraft – the Vistara UK 747 – the journey felt as good as the destination.
Join us on Instagram, Facebook, and Twitter for awesome travel stories!
Don't forget to subscribe to our newsletter to receive travel inspiration right in your mailbox.