VISITING VATICAN CITY ROME & ST. PETER'S BASILICA
Travelling is always an invigorating experience, but some places end up being more special than others. Visiting Vatican City made us realize that this little township in the heart of Rome will always be more memorable to us than others.
For anyone who enjoys places that have a vibrant cultural history, Vatican City is an absolute wonderland. Knowing about the Sistine Chapel or St. Peter's Basilica is one thing; having seen pictures and videos, another.
Yet nothing compares to the experience of walking down the aisles of these historic marvels, just taking in the wonders of another land.
ALSO READ: BEST THINGS TO DO IN FLORENCE ITALY
Jam Packed Vatican City in Rome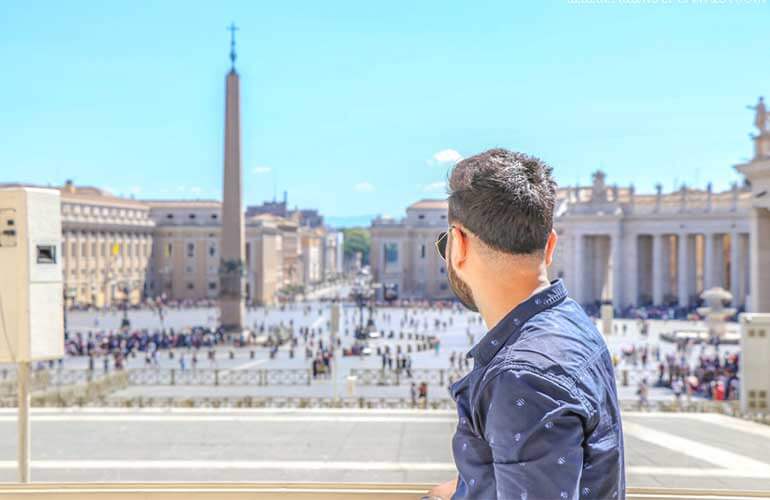 Harsh is easily dumbfounded by the majesty of the Vatican City
WHAT TO SEE IN THE VATICAN CITY ROME?
When going on a trip to the Vatican City, Saint Peter's Basilica and Vatican museums are the most happening tourist destinations. The trip is incomplete if you don't visit these two places! So, it is but obvious that we went to this place though it was a self-guided tour.
Being a touristy place, we were expecting a little crowd but to our astonishment, when we reached the Museums there was a really long queue to get in!
Unfortunately, due to paucity of time we had to skip visiting the museum but were dumbfounded by the majestic Saint Peter's Basilica (our next stoppage).
Although it was also jam packed, something that we don't really like but yes going to this place is definitely recommended.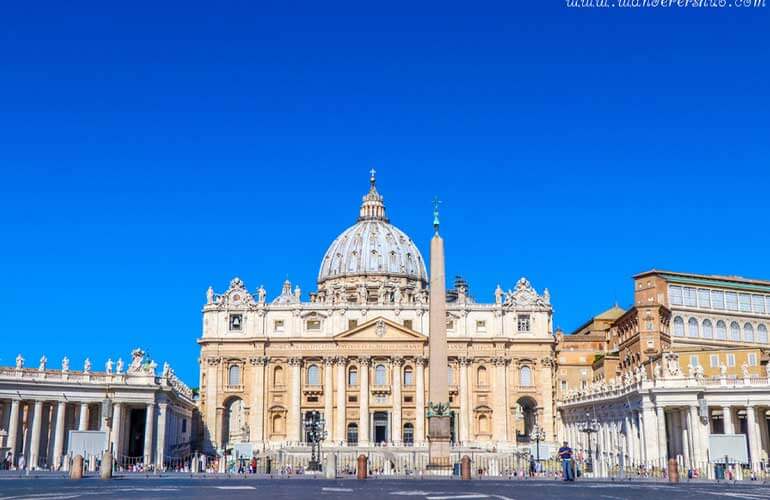 The architecture of this church can leave you speechless
BEAUTY OF SAINT PETER BASILICA
It is one of the holiest catholic shrines in the world and it was well evident! With timeless, unique and exceptional architecture, we were stunned at every site!
We have often heard – "Rome wasn't built in a day" and its metaphorically as well as literally true because there are thousands of churches in Rome and all of them have over-the-top paintings, sculptures, underground excavations, baroque facades and incredible places that you feel like stepping into every church you pass by!
But this magnificent Church – Saint peter's Basilica has to be in every tourist's itinerary.
 Saint peter's Basilica – Stunning architecture
Indeed we were awestruck at the beauty of Vatican City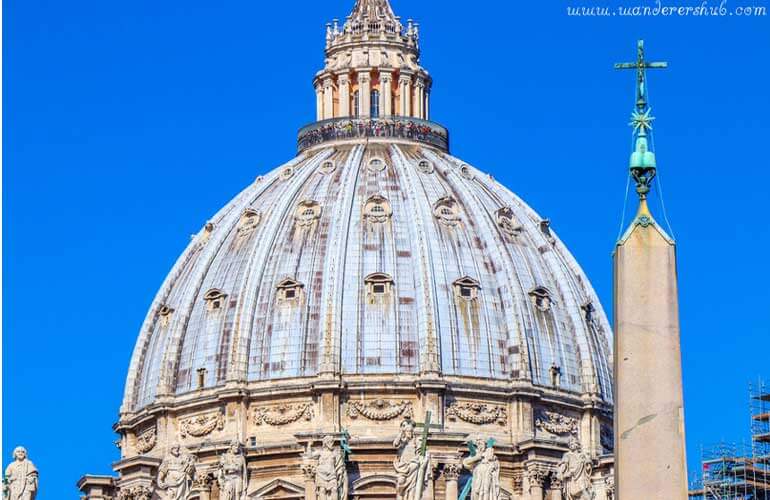 The stunning dome
When I say it is a place worth going to then I also need to mention and remind you of the old-age saying 'no pain, no gain!' Yes, to bring delight to your eyes you need to bear the pain in your legs! The tour up the Basilica is a cumbersome task – one has to climb a lot of steps to reach there.
First level having 320 steps and the other one with 231 stairs. There is an elevator option for the level one but eventually you have to walk in the level two.
The Vatican dome gets narrower as you proceed ahead and one has to climb this part single file, with the roof slanting over your head. But it is acceptable in front of the splendor of this dome.
Inside the St Peters Church Rome
 The Dome of St Peter Church
Vatican Architecture
Disclaimer – If you are having vertigo or claustrophobia then you should avoid visiting the dome but if it is not the case then every excuse you make of not going will end up making you regret! We loved the view from the up of both the church and the city-scape in the vicinity.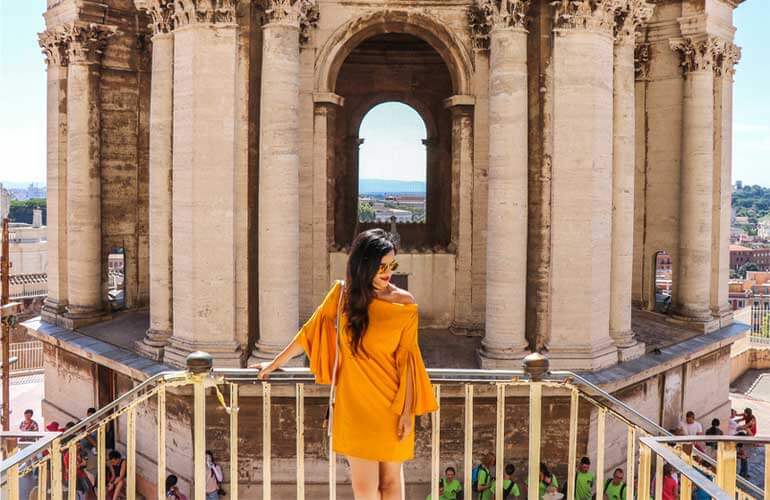 Climbed so many stair to reach to this view
VISITING VATICAN CITY ROME – WHEN TO GO?
'The best time is NOW'
Yes, there is no best day or month for visiting Vatican City because there is no such day when there are less people. It is the most popular destination in Rome! Although you can prefer going on mid-week days like Tuesday or Thursday (definitely not Wednesday).
Weekend tends to be busier [Closed on Sundays] and on Wednesdays there is Papal audience which means you will see a throng! And, same goes for the last Sundays of the month when the entry is free.
On Wednesday (except for late July and August, at this time pope is not in town and holds the audience in Castle Gandolfo) you will see tens of thousands of people rushing to saint Peters to attend the audience in Saint Peter's Square.
Most of the tour groups reach the place in the morning to beat the crowd which actually turns up to be the time when it is even more pervaded with people. So, you can go in the afternoon and expect a slight lesser number of people!
Such places are more crowded in Summers because of people from foreign countries also come up. Same goes for the Christmas days i.e. from December 25th to January 6th. These are specific times of the year when you will notice sheer congestion.
It can be hot – but its worth every step you take towards this church
NOT TO FORGET THERE'S A DRESS CODE
Inappropriate clothing and insensible dressing is completely forbidden here! DO NOT wear shorts, skirts, off-shouldered tops, low-cut sleeves or midriffs.
Sandals and jeans are acceptable. There are a lot of vendors also outside the church that sell t-shirts and scarves to the people who are unaware of the dressing code.