SPEND VALENTINE'S DAY AT THESE ROMANTIC PLACES IN DELHI
With Valentine's Day coming up, quite a few Delhiites are scratching their heads looking for where to take their date for an unforgettable time. While of course the place doesn't matter as long as you're with someone you love, there are some things romantic restaurants in Delhi with a gorgeous view can do.
Not the restaurant type? No problem! You have cafes, bistros and parks to choose from. Here's a list of our fave Valentine's Day you need to check out! You might want to get a table reserved for yourself well in advance for most of these places, unless you want to wind up with nothing to do and nowhere to eat (the horror!)
1. Fio Country Kitchen and Bar, Saket
If you're a day person, Fio needs to be on your list. This picturesque place is located in the Garden of Five Senses and lives up to its reputation as one of the most romantic places in the capital. If you and your partner are food buffs (and who isn't?), we recommend the buffet. You can sit in the open space, all complete with gravel paths and cute lamp posts. You wouldn't want to leave!
Address: Gate 1, The Garden of Five Senses, Saiyad Ul Ajaib, Saket, Delhi 110044
Phone: 099710 04530
Cost for two: ₹3,300
Fio Country Kitchen and Bar
SOURCE
2. The Piano Man Garden Cafe, Palam
The Piano Man lives up to its repute as a superb spot to hog on delicious continental and European cuisine, with a jazz group livening up your evening. This garden cafe in Palam offers a little more: the amazing outdoors. With comfy garden chairs and the warm winter sun, there's nothing more you could ask for.
P.S. Ask for the pastas and pizzas for a delectable experience!
Address: CK Farms, Near ITM College, Carter Puri Road, Sector 23A, Palam Vihar, Gurugram, Haryana 122017
Phone: 088009 46360
Cost for two: ₹1700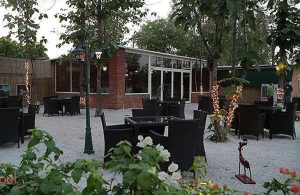 The Piano Man Garden Cafe, Palam
SOURCE
3. Rose Cafe, Saket
This tiny cafe in Saket is so cute, we're in love! The decor is lovely for those who don't feel like dressing up all fancy for the day. This place transports us to a cute little cafe in London, as does the menu and the ambience. The menu has vegan options, and some great ones at that (read: the Lebanese is a must try!). This one's on our list for a nice afternoon date, complete with chalk boards and vintage decor.
Address: 2, Westend Marg, Saiyad Ul Ajaib Extension, Behind Saket Metro Station, New Delhi, Delhi 110030
Phone: 011 6599 1116
Cost for two: ₹1000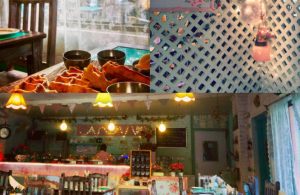 Rose Cafe
4. Kiyan, IGI Airport
This chic restaurant serves traditional Mughai in perhaps one of the prettiest little spots in the city. There's a small pond in the vicinity, and the food is absolutely lip smacking! If you're into Indian food, this is a safe option. You can even stroll around for a while after your meal, though that isn't what we think you'd want to do!
Address: Dusit Devarana, 21st Milestone, Samalkha, D Block, Samalka, IGI Airport, Delhi NCR 110037
Cost for two: ₹4,500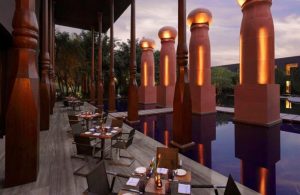 Kiyan
SOURCE
5. Yauatcha, Vasant Kunj
This remarkable bistro offers delicious Cantonese food for those who feel adventurous! The ambience is unforgettable and makes us want to dine there every night. Apart from the regulars, Yauatcha boasts of some of the best sweet stuff in town. Their dessert range is well stocked and offers a little something for every sweet tooth. We recommend you pre book a table here, as it can get pretty crowded on holidays.
Address: Ambience Mall, Level 2, Ambience Mall, Nelson Mandela Marg, Vasant Kunj, New Delhi, Delhi 110070
Phone: 092222 22800
Cost for two: ₹2,300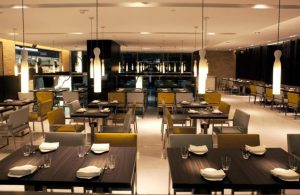 Yautcha Restaurant
SOURCE
MORE FROM DELHI!
Awesome Lounges in Delhi| Free Things to do in Delhi | Historical Sites to Visit in Delhi
Pin me: