SMELL, SLURP, FEAST: THE WORLD DIPPED IN CHOCOLATE SAUCE @ DESSERTIANFEST
We have lived in Delhi all our lives; if you have been following us on our Instagram handle, you would know, the other great love for both of us is food! At Wanderers Hub, we truly stand by the fact that sampling local dishes (read desserts) is the best known method to gauge the pulse of a city.
We got really excited when we first heard of a dessert festival in Delhi, especially after having missed the hyped 'Grub Festival'. And indeed we spent the rest of the night anticipating the unique desserts that would greet us the next morning.
At 11 am on Saturday, we got ready and left for the Dessertian Festival, held at the SelectCity Walk in Saket, Delhi. A quick recce later, we took our tummies on a culinary ride that we won't regret ever – amazing food festival in Delhi indeed!
We ate – we binged at all possible dessert stalls (chat ones too) , sampled one choco cake too many, even learnt about makings of a few desserts, and drank too many ice teas to beat the Delhi heat. We still love our chocolate truffles and red velvet cakes, but there's much more to desserts than that.
Desserts all day long? We are in!
Three-day fest is held at Saket's SelectCity Walk Mall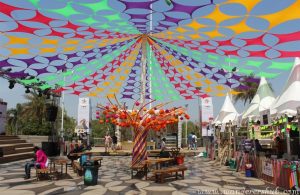 Quirky decorations ??
Cheap eats in Delhi- head to papri stall
Shakkar – too much sugar in the name itself
Okay, I need a candid picture here!
The cutest 'Banta Wala' bhaiya
Best to beat the Delhi heat
Just a bite of Raj Kachori would make you its fan
You might not be able to photograph these desserts as it'll give an intense need to devour it instantly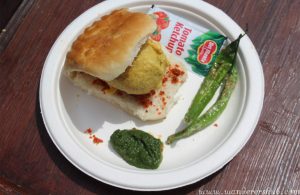 Vada Pao be my fav
Keep the ice teas coming; it's hot indeed
Macron cupcake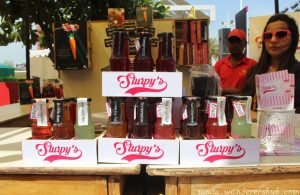 Refreshing drinks by Slurpy
Slurp Slurp Slurpppppyyyy
Cutest candy stall in the town can be found here.
Don't leave Dessertarian fest without tasting Chocolate Sin
Quick Facts:
1. #DessertianFest is one of a kind three-day event for dessert lovers that is being held at the SelectCity Walk on 24th, 25th, and 26th March.
2. You can try the best of desserts from Delhi & NCR's best bakeries, restaurants, and other vendors, all in one place.
3. You are assured yummy stuff everywhere!
Don't forget to make a quick stop at:
1. Desertfox
2. Milk Patisserie
3. Letz Roll
4. YOLO 21 Cafe
5. Turquoise Turkish Ice cream
6. Wafflesome
7. The Sweeet Jar Bakery & Cafe
8. Zoet Desserts
9. Whisk a Wish
10. Touch of London Caffe
Here's a quick look of the #DessertarianFest in Delhi:
Want to read about our shenanigans in Delhi?
You can also pin this post: