HAVELOCK ISLAND TRAVEL GUIDE: WHAT, WHERE AND HOW
Havelock Island in Andaman is the perfect holiday spot for those in the mood for an indulgent and ultra-romantic getaway within India!
***
Every year millions of travelers, like us, come to Havelock Andaman to explore the island paradise.
Striking beaches are the primary draw here. You are assured gorgeous sights in every place. It's hard to articulate in words the kind of beauty that Havelock is. A picturesque bicycle or bike ride is all it takes to uncover this gem of an island (15km from one end to another). There is so many things to do in Havelock Island Andaman that you could easily spend -4 days just taking in the beauty.
GETTING TO THE HAVELOCK ISLAND ANDAMAN
To reach Havelock, you'll need to board a catamaran ferry that takes about 90 minutes from Port Blair.
Whether you are taking a private catamaran or a government one, we advise you to make bookings in advance. We opted for Makruzz to reach Havelock and later Neil Island as it has a good seating arrangement and a canteen inside – you guessed it right, most of the time was spent bingeing snacks at the canteen inside the cruise!
So yeah, just a cruise later, we found ourselves in India's most remote and unique islands – The Havelock Andaman – hurrah!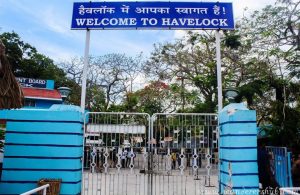 Havelock Andaman – a well-maintained island indeed
ACCOMMODATION IN HAVELOCK
Symphony Palms is one of the most popular options for visitors spending a few days in Havelock. It is located in the center of Havelock so you could reach all shacks around the corner on foot! No bike needed! Hotels in Havelock are extremely expensive and not really luxurious. Taking that into account, Symphony is a fantastic option.
We booked the hotel for 2 nights on TripAdvisor as it was popping up a lot on many forums. We were upgraded to a cottage, which was spacious and equipped with all modern amenities.
I must say Symphony is an experience in itself, in fact, you don't need to get out of the resort because their private beach is a sight to behold – an experience that can soothe the frazzled of nerves!
Check out all the pictures of Symphony Palms Beach Resort, here!
A beach cottage in Havelock Island Andaman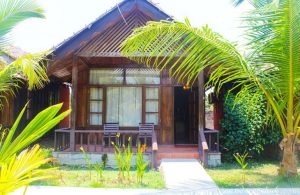 Things to Do in Havelock Island Andaman
Your trip to Andaman is definitely incomplete without including Havelock in the itinerary. The Island is as remote as one can think of, with seemingly endless rows of trees around and ocean waves giving an exotic feel to the surroundings. Without further ado, we present to you the best things you could possibly do in Havelock Island, Andaman.
1. SPEND SOME MOMENTS OF BLISS AT RADHANAGAR BEACH
It's the most popular beach in Andaman and there are good reasons for that! Sit by the beachside and you'll love the wind hitting your face, or you can be adventurous and jump into the waves.
We promise you, the waves crashing into you will make it difficult for you to tear yourself away from the experience. You must have guessed by now, which option we must have opted for.
You have photo opportunities at all corners of the Radhanagar beach. So go on, take a book along and be one helluva beach bum.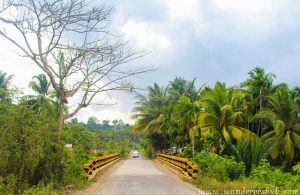 Expect to see roads like these enroute the Radhanagar Beach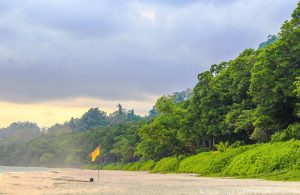 The first impressions of the beach – scenic
Lie down- all you need is a good company
2. A DAY TRIP TO ELEPHANT BEACH
Somehow for me, Elephant beach turned out way more exotic than the highly overrated Radhanagar Beach.
Walking into the Elephant Beach felt like walking straight into the picture postcard. You don't need to think much, just point yourself in any direction and capture the beauty. Add a visit to this beach to the list of things to do in Havelock Island Andaman and for more inspiration, check out our photo story from the day we spent at this picturesque beach.
Life looks good at a beach for sure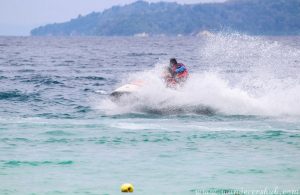 At the Elephant Beach, you can indulge in a number of water activities
3. SCUBA DIVING ADVENTURE
Rich coral reefs and clean water makes Havelock the perfect base for underwater activities for travelers. We indulged in all sorts of water activities, including snorkeling, jet skiing, and the best – scuba diving!
Yep, we braved our first dive, and the experience was an extremely satiating one. I wish I could stay under the water, be a mermaid all my life, and never get tanned! Just random thoughts!
Anyway if you are planning to do scuba diving in Andaman then we would highly recommend doing it with Sea Link Adventures. In case you aren't really comfortable with the idea of scuba diving, you can simply opt for underwater sea walk.
Scuba diving with Sea Link Adventures would cost you around 3500 INR. The best part – you don't really have to be an expert at swimming to enjoy scuba diving and underwater adventures. Beginners can enjoy pretty well as much as the experts.
Scuba diving in Andamans – our first dive
Finding NEMO
Scuba diving fun with Sea Link Adventures
4. RELISH MOUTH-WATERING SEAFOOD AND STREET FOOD
Andaman is a paradise for seafood lovers, and as you all know, we are vegetarians so, we resort to all sorts of packed foods and fruits while we are traveling in different parts of the world.
The street food in Andaman is quite good – it' colorful and complete with Indian spices! You will find street side vendors selling Bhelpuri and Jhalmuri at most of the corners of the beaches. Other than the street food, you'll also find fruit sellers on almost all the beaches, which can set your tummy rumbling.
5. TAKE A WALK AT THE PRIVATE BEACH
Meanwhile, Symphony's private beach itself is surreal – beautiful and uncrowded. It was our privilege to exploit all the facilities provided by the resort to the optimum.
We spent quite a lot of time at Symphony's private beach, sunning ourselves and walking around for post-lunch lazy walks. It's just perfect for romanticizing and watching the sun go down together. You are sure to fall in love with their private beach because we did!
Relaxing beach days spent swinging on the private beach
A gorgeous private beach – can easily get used to these views
6. A MEAL AT ANJU COCO
Make sure you dine at the most popular cafe in Havelock – Anju Coco. We were surprised by the number of people who recommended us this cafe in Havelock.
It was barely 1.5km away from Symphony and we were happy that we didn't give it a miss. We promise you'll love the earthy interiors and South Indian cuisines.
Another reason we'll never forget our visit to Anju Coco is more so because we found WiFi after so many days of being disconnected with the outside world. See where we found WiFi in Havelock.
Read more about Anju Coco here.
7. WIFI IN HAVELOCK
If you are bleakly planning about visiting Andamans anytime soon, especially Havelock or Neil then be super sure that you are ready for digital detoxification. Forget WiFi, there's not even proper phone network in these islands.
However, if you are in a dire need for reaching out to someone through a mail or just longing for a quick chat, you can rush to Vijay Nagar, Havelock-5, and there you can find good speed internet at the Shangrila's Beach Resort. For every 15 minutes usage, you need to pay 30 INR. Best part, the WiFi works at good speed!
Shangrila's Beach Resort for Wifi
ARE YOU SORTED FOR YOUR VISIT TO HAVELOCK ISLAND? YOU MIGHT WANT TO EXTEND YOUR TRIP TO NEIL ISLAND AND EXPLORE THE SECLUDED SIDE OF ANDAMAN!
READ OUR NEIL ISLAND ITINERARY HERE.
havelock island planning havelock radhanagar beach Things to do in Havelock Island Things to do in Havelock Island Andaman things to do in radhanagar beach trip to havelock trip to havelock island